Diversity and its Importance for Constructing Peace of Mind and Safety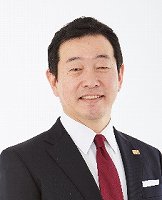 Project Director and Implementation Supervisor of the joint implementation facility
Representative President of e TRUST Co. Ltd.
Ryuichi Sakai
Our e TRUST Co. Ltd., a company with 190 employees, established as a motor repair plant at Nagaoka City in 1935, is now developing its business from utility work such as electricity and telecommunications to develop disaster-prevention systems. We have our head office in Tokyo and a flagship store in Nagaoka.
Today, we greatly appreciate the valuable opportunity to be engaged in this project with the people of the Nagaoka University of Technology and the National Institute of Technology, Nagaoka College.
We set up a solar power plant using our many years of electric technology after the Great East Japan Earthquake. Thereafter, we developed our businesses in renewable energy fields including wind power, micro-hydroelectric power, and electrical shortages. In addition, using our experience with flooding of the Shinanogawa River, running through Nagaoka City, and heavy snow, we have developed remote monitoring systems for river water levels and amounts of snow to contribute to improvement of disaster-preventive capabilities at home and abroad.
Through our work abroad, extending into newly developing countries such as Bangladesh, the Philippines, Myanmar, and Brazil, we have introduced systems, recognizing that different ways of thinking exist about disasters and human lives. Based on our experience, first, we have placed a premium on fostering trust relationships with people of local communities. In addition, we try to meet their demands flexibly using our advantages as a mid-sized business. We also have female engineers working actively on-site.
In constructing disaster-prevention systems, we have been conducting joint research with female researchers at the Nagaoka University of Technology. Taking advantage of the project, we will actively send our female engineers to joint studies and various seminars so that they can enjoy the challenges and interests of engineering development.